The guest posting continues!

I know you all are thinking "ok, what tha?! Halloween isn't till, like, weeks and weeks away. Is she mental?!"
and the answer is yes, yes I am mental...but that's not why I'm having
Ashley
from
After nine to five
share with you loves her Halloween faves. Check out her blog and shop--you will fall in love with her. You are welcome in advanced. Also? Homegirl has a coupon code for her shop! (squeals) keep readin ;)
You see on top of me moving, prepping
my etsy
with new swag and designing freelance gigs for some awesome gals I am ALSO going to disney for Bub's step brothers wedding. Yep, its a real life fairy tale folks, insert
AWWWWs
here.
And do you know what I am going to be doing in Disney in about oooo I dont know 5 days? And the answer is NOT eating breakfast with the disney princesses inside the Castle (THEE CASTLE!) at magic kingdom b/c im a poop and didn't book it in enough time. Consolation prize? Dress up as a princess and make Bub take me to IHOP. There. I win. Take that Disney Princesses inside your stinkin' castle.
I'm going to be trick-o-treating in Magic Kingdom! Yes, I said it, I'm going to be gallivanting as
this lovely lady
along with Bub as
this fella
with trick-o-treat bag in hand and try to take out any 5 year olds that try to get the last milky way bar
(sorry kid, when it comes to milky ways I pretty much have no shame. Those tears won't work on me, I have reflexes like a cheetah, you're going down)
so as you can see I am totally in the halloween spirit, and so should you. Take it away Ashley!

A Few Of My Favorite Things: Halloween Style
Every year,
my husband and
I decorate our house for Halloween. We don't have any lavish parties. And we don't have children. And sometimes we don't even pass out candy. But Halloween is probably my favorite holiday of the year which means I'm eagerly waiting to bust out the ladder for our makeshift front yard graveyard.
This year, I'm going big. And by going big, I mean I'm putting up ALL of our Halloween decorations (not just the half I can easily get to) and wherever this is a bare wall, table, chair - you name it - I'm going to bust out some handmade goodness to deck our halls to the max. So I thought I'd share some of my recent finds on Pinterest that are inspiring me to make our house as gawdy as ever for a good month or two until Christmas rolls around and I outdo myself.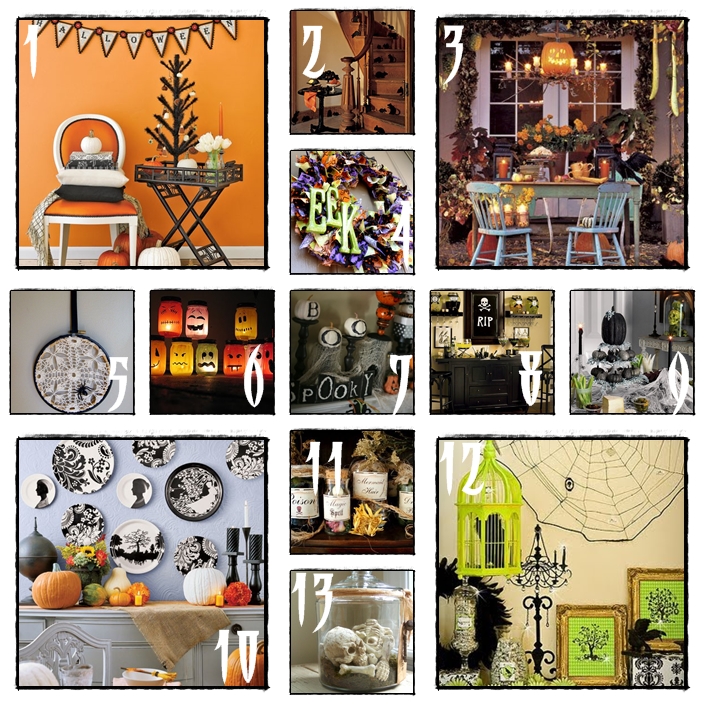 If we're being honest here though, my house will look nothing like any of these and it will be a jumbled mess of junk from the Dollar Tree because it was such a good deal. But maybe - just maybe - I'll prove myself wrong and have decor as crafy and elegant as these decorations look.
If you're interested in seeing more of the random junk I pin, follow me on
Pinterest
! Or you can find me about me on my
blog
, check out my
shop
, follow me on
Twitter
, or like me on
Facebook
. From September 15 to November 15 I'm having a two month blog party with tons of giveaways, sales, tutorials, and whatever other goodies I feel like throwing in. Use coupon code
HEREFORTHEPARTY
to save 25% off your order during this time!